The Muslim Issue
by alpineski
'Outreach to Islam summits' launched, 1st stop Chicago.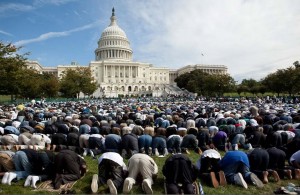 A series of Muslim Outreach Summits are planned coast-to-coast by the Obama administration to get feedback from Muslims on how the government can better serve them and their specific desires.
The president's adopted home town of Chicago will be the first stop.
Documents referring to the Muslim summits while examining a U.S. Department of Education procurement of data-gathering and report-writing services.
The services are specific to information being assembled by the White House Initiative on Asian Americans and Pacific Islanders, or WHIAAPI, which Obama created via executive order in 2009.
Upon closer inspection, however, is clear that the Education Department explicitly will direct the selected contractor to chronicle findings and recommendations gleaned from the Muslim Outreach Summits.
The White House views this year's venues as an extension of a previous outreach to "new immigrants and refugees – some of the…
View original post 387 more words