The Muslim Issue
A handout image purporting to show UN weapons inspectors collecting samples at the site of the Aug. 21 gas attack in Syria.
Assad did not order Syria chemical weapons attack, says German press
Bild am Sonntag cites high-level German surveillance source suggesting Syrian president was not personally behind attacks
Simon Tisdall and Josie Le Blond in Berlin  |  The Guardian, Monday 9 September 2013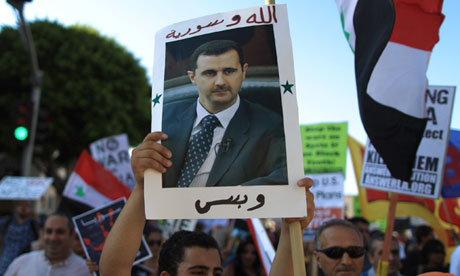 A anti-Syria strike demonstration in LA. German paper Bild am Sonntag has cited information saying the Syrian president did not personally order chemical attacks, but this does not exonerate his regime. Photograph: David Mcnew/Getty
President Bashar al-Assad did not personally order last month's chemical weapons attack near Damascus that has triggered calls for US military intervention, and blocked numerous requests from his military commanders to use chemical weapons against regime opponents in recent months, a German newspaper has reported , citing unidentified, high-level national security sources.
View original post 691 more words